Editor in Chief Michael Hunt – Published 12/15/2019 – Updated: 04/11/2020
The New Independent Journal updates its readers with some of our latest facts and findings on Coronavirus COVID-19 as they become available.
In December 2019, we broke the story from China asking questions about the official narrative.
We were among the first to suggest social distancing, full self imposed quarantine and isolation in Early February 2020 for all Americans and encouraged people to stock up on household supplies for at least one month.
Alarmist, yes! Stupid, well as we are seeing no.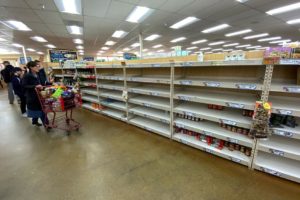 If we had slowly rolled out a preparedness plan that the many groups had been encouraging for years. Perhaps, we wouldn't be facing this crunch in our supply chains and the woefully unprepared medical industry.
Is it a wise or safe idea to be crowding into stores right now?
The fact that most people have not been tested and based on the evidence in other countries, suggests that there are many people among us walking around who are currently infected with COVID-19 but do not know themselves and are untested.
What choice do people have? Most of us don't have enough supplies to last a week, let alone the months it could take to clear things up.
The Coronavirus COVID-19 is unfolding and expecting to be as bad as the 1957 pandemic.
There are a few official sources for information on the virus that people should consult. There are plenty of lies spreading social media, in email chains and everywhere online. So at the least we should exercise some caution and at least familiarize ourselves with the official story on Coronavirus COVID-19.
USA: Centers for Disease Control and Prevention 
Canada: Government of Canada Public Health
The first reported case of Coronavirus COVID-19 was on November 19th 2020 in Wuhan China
On March 13th 2020, Chinese officials saw their first decline -thus "passing the peak"
That's almost 4 months from the first case to a decline and by no means is a decline mean the end. It just means new infection numbers are declining. China was caught off guard at first but responded quickly.
Let's not get too excited because China lies!
What does life in a Wuhan Lock Down look like
The West had time to prepare and has been slow to respond. We saw what happened in Italy and politicians did nothing.
Prominent intellectuals have been sounding the alarm bell for years.
The official story is from someone eating a bat. This man saw it coming.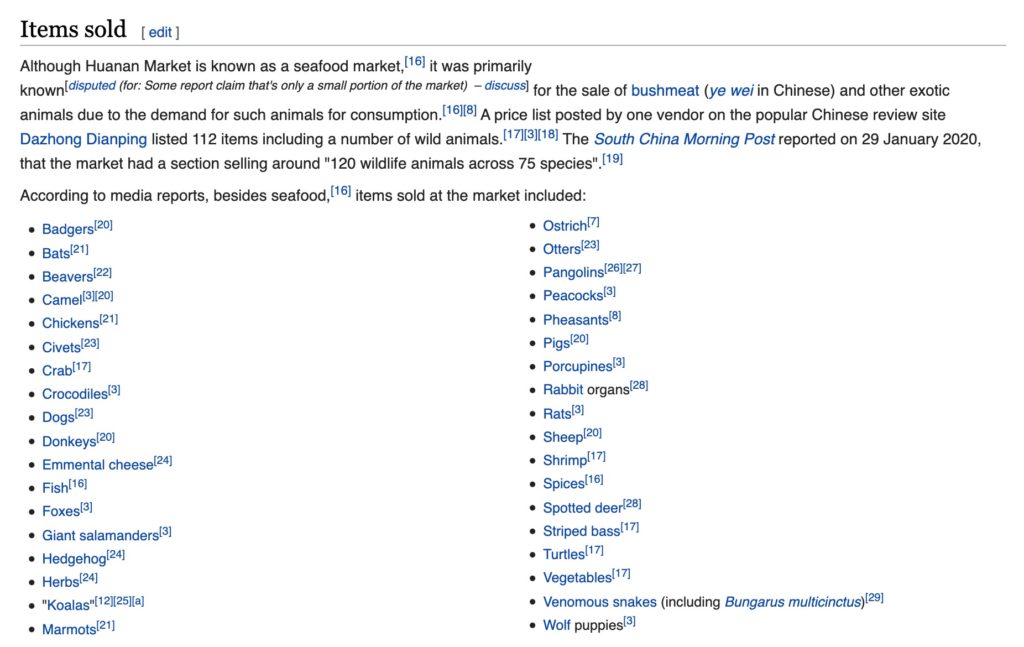 Guess what? They are still eating this stuff, despite the fact that China has a regular history of these viruses originating from similar markets like SARS and H1N1.
News from the Front Lines
A sobering play by play of the stages from Italy we can all learn from.
What's happening in China now?
Who is managing Coronavirus the best? Singapore, Taiwan, Hong Kong seem to be doing a good job.
The official number of days for quarantine is 14 days but please be aware that it could take up to five week for you not to be infectious. Be the on the safe side and self isolate until we know more.
A long time. Depending on the material up to 72 hours
CDC says coronavirus RNA found in Princess Cruise ship cabins up to 17 days after passengers left
It can also live in your fridge
COVID-19 was applied to the surfaces of air, copper, cardboard, stainless steel, and plastic at 21 to 23°C, 40% relative humidity, and over 7 days.
COVID-19 was found alive on the following surfaces for the following hours:
Airborne:       3 hours
Copper:         4 hours
Cardboard:  24 hours
Steel:           72 hours
Plastic:         72 hours
If confirmed, this would make COVID-19 significantly more contagious through air (simple breathing) than through respiratory droplets (coughing/sneezing). For example, other common airborne diseases include: anthrax, measles, smallpox, and tuberculosis.
People with an overactive immune system can be at higher risk of contracting Coronavirus COVID-19
What does an overactive immune system mean?
If you have
Asthma
Eczema
Hay fever
Food allergies
The country that has gotten it the most right has been South Korea.
Let's take a look at how clustering works and why isolation makes sense.
The Conservative Approach to Handling Coronavirus COVID-19
Allow Doctors and Scientists to dictate policy, strategy and budget decisions for combating Coronavirus COVID-19 – not politicians.
Encourage everyone who can, self isolates in quarantine for the foreseeable future.
Halt all non essential commercial travel.
Shut down all schools
Shut down all events and publics gatherings
Ready financial assistance or UBI to everyone. Ready small business assistance programs. Implement a program to defer immediate payments on loans, mortgages and bills, etc.
Provide support resources to essential health care workers; such as child care.
Ramp up manufacturing of essential medical equipment.
Focus on testing.
Focus on containment.
Promote an international forum for Doctors and Scientists to share data in a centralized source.
Here are the mild, medium and severe symptoms.
Researchers modeled the natural spread of COVID-19 and published a major study in the journal Science today. They found that for every detected infection, there were five or more undetected infections and that these undetected cases were still about 50% or half as contagious as the detected people.
This would explain how on February 20, 2020, a young man in the Lombardy region of Italy "was admitted with an atypical pneumonia that later proved to be COVID-19. In the next 24 hours there were 36 more cases, none of whom had contact with the first patient or with anyone known to have COVID-19." (Livingston)
The asymptomatic carrier state infection and spread of COVID-19 would be a likely explanation for this phenomenon.
Does Herd Immunity Work?
The government of the U.K. should be be charged for murder for initially suggesting that Herd Immunity (doing nothing) would work.
Sweden taking lax approach to coronavirus, top doc says it'll 'probably end in a historical massacre'
Coronavirus: low antibody levels raise questions about reinfection risk. Scientists in Shanghai say some recovered patients show no signs of the neutralising proteins. Early-stage findings could have implications for vaccine development and herd immunity, they say
The CDC advises a whole host of things
Social distancing should be more than 6 feet btw
No!
Let's first look at hospital beds per capita (1000). We also don't have enough respirators, ventilators, masks, etc…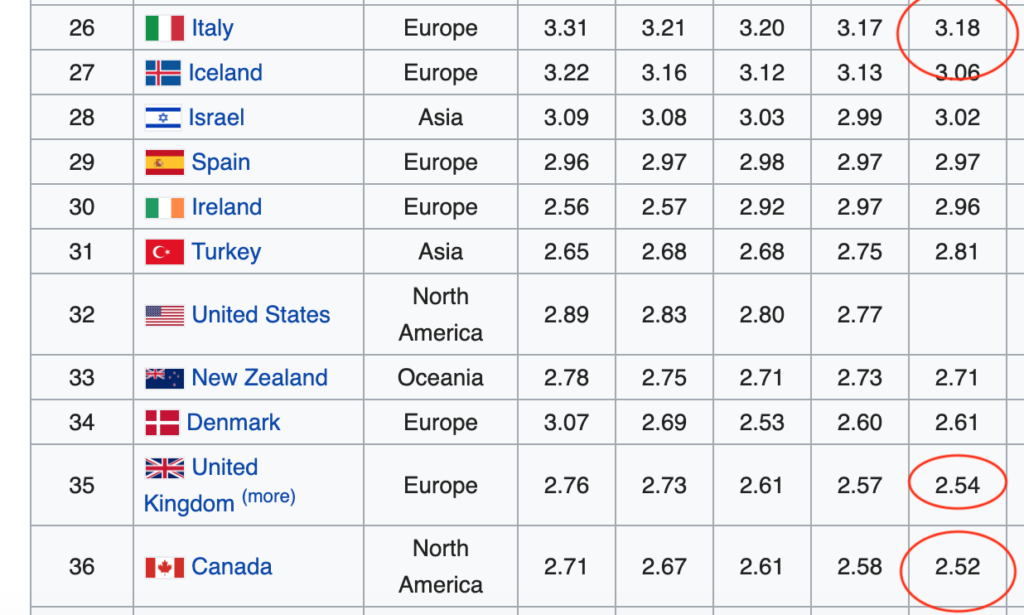 Italy has more than the USA, Canada, U.K. and South Korea has the second most at 13.05! It has been a disaster there as well and they have done everything right.
For a more detailed explanation of the USA, look here.
Do masks work?
Yes…
COVID-19: WHY WE SHOULD ALL WEAR MASKS — THERE IS NEW SCIENTIFIC RATIONALE
Asia may have been right about coronavirus and face masks, and the rest of the world is coming around
How to tell if your mask is real

That number is changing daily and can be found here
But the numbers can be tricky…
"Not one of the 12 people suspected to have died of Covid-19 on Anthony's shift had been tested for coronavirus. As a result, their deaths were not included in the official coronavirus death toll in New York last Sunday, which stood at 594."
What is our worst case as humanity?
We don't know exactly why but the data from Italy is much worse (higher mortality and higher severity) than compared to China.
In Italy, COVID-19 produced the following cases:
53%  mild              (vs 81% in China)
25%  severe          (vs 14% in China)
5%    critical             (vs 5% in China)
7%    asymptomatic (vs 1% in China)
11%  unspecified
Most troubling, the mortality in Italy is 7% vs 2% in China.
Overall, there were more asymptomatic cases, more severe cases, and more deaths in Italy. The commonalities between Italy and China were that children were generally safe and the elderly were the most vulnerable. For example, In Italy, 90% of all deaths occurred in those 60+ years of age.
Age is one of the most significant risk factors.
How long will these panicked times last?
No one knows. It also depends on what stages of normal we are talking about and how we handle this.
There will be a new normal.
Microbiologists from the University of Hong Kong have carried out groundbreaking research comparing how Covid-19 and the Sars virus act in human lungs, and come to the conclusion that the new virus will disrupt life in the SAR for months.
DR. FAUCI SAYS 'A REAL DEGREE OF NORMALITY' MAY COME BY NOVEMBER AS NEW YORK COVID-19 ICU ADMISSIONS DIP FOR FIRST TIME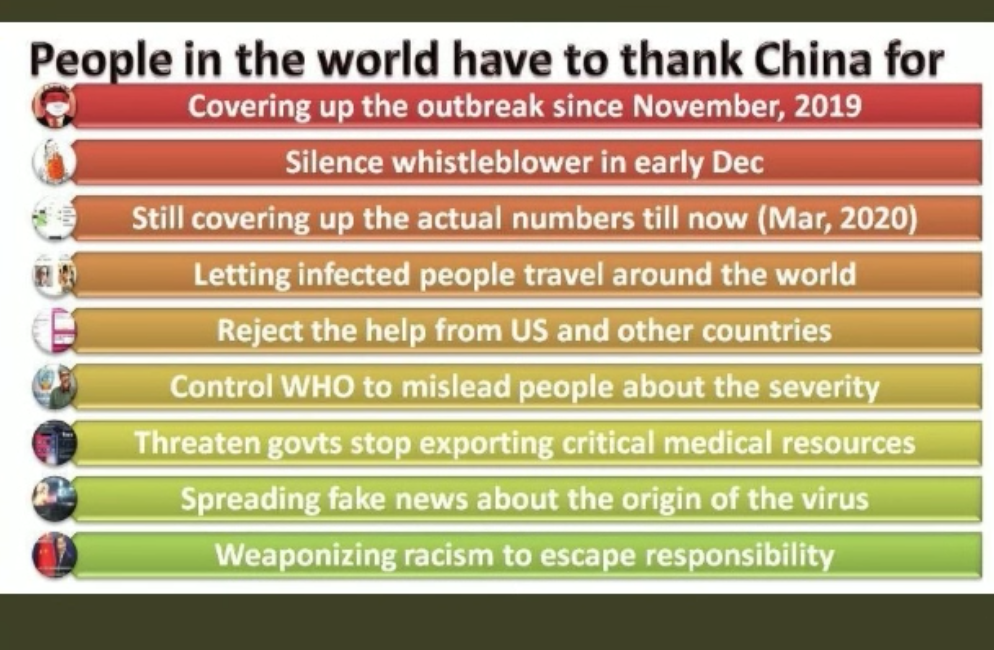 The Chinese government has been trying to suppress the truth from the very start. They have lied about the seriousness of the virus, silenced dissent as always. Further reading.
Is Coronavirus a bioweapon? Who knows. Here is one take on it.
Whenever someone suggests there is a conspiracy, I like to suggest the question; "who benefits?"
It's hard to see how China, the USA or any country really benefits from this. Well anyone who shorted the markets did.
Three theories
This is a method of population control, to take out the elderly who are sucking up pensions and benefits.
An illuminati type global elite want to depress economies to buy up assets at bargain prices, then lend money to companies/governments/individual for the rebuild thus ensuring more indentured financial servitude for the masses (who will be the ones paying it back), while also imposing more control mechanisms through the madness like increased surveillance, decreased privacy, civil liberties and rights and maybe even implement a national genetic registry.
This is a simulation for pandemics. The virus was well engineered to have a certain kill rate. It was released by globalists who see the need for a global scare to happen so people take the inevitable existential threat of a pandemic seriously. So a slight catastrophe now to avoid a bigger one later one.
People do eat bats though…
The Coronavirus Relief Bill Promotes Surveillance for Health
How will the government help me financially?
Tax Relief Due to the Coronavirus Pandemic

The Internal Revenue Service ("IRS") and the California Franchise Tax Board ("FTB") urgently addressed tax relief measures for taxpayers affected by the coronavirus pandemic.

These measures include a 90-day extension of time to pay certain federal income tax payments (to July 15, 2020) and a 90 to 120-day extension of time to make California tax payments (also to July 15, 2020).

Additionally, the FTB is extending the time to file 2019 California returns, but the IRS as of now is not extending the deadline for filing federal returns.

Federal Income Tax Payment Relief

Following the President's declaration of a national emergency on March 13, 2020, the U.S. Treasury Department and IRS issued guidance yesterday, on March 18, 2020, allowing taxpayers to postpone until July 15, 2020 federal income tax payments that are otherwise due on April 15, 2020 up to specified limits.

Penalties and interest will not accrue during this time.

Please note the following highlights of Notice 2020-17 issued yesterday:

An "affected taxpayer" includes any person with a federal income tax payment due April 15, 2020 (thus, this includes all taxpayers);
Individual and other non-corporate tax filers may defer up to $1,000,000 (the dollar limit is the same for single individuals and for married filing jointly);
Corporate taxpayers and members of a consolidated group may defer up to $10,000,0000.

This relief is available for the following payments due on April 15, 2020: a) federal income tax payments for the 2019 tax year; and b) federal estimated income tax payments for the 2020 tax year (i.e., Q1 payments). Such payments include taxes on self-employment income, but do not include any other type of federal tax, such as payroll tax.

Please note, this guidance does not change the April 15 filing deadline for federal tax returns or other information returns. Thus, taxpayers should still file these returns on time.

California Tax Filing and Payment Relief

To conform with the new IRS guidance, the FTB also announced yesterday, on March 18, 2020, that it will extend until July 15, 2020 the time to file 2019 California tax returns and make payments that were otherwise due between March 15, 2020 and July 15, 2020.

The FTB's guidance is like the IRS notice, except a) California taxpayers have an extension of time to file and pay; b) taxpayers are not subject to the federal dollar limitations; and c) the types of payments that may be postponed are broadened to include 2020 LLC taxes and fees, 2020 Q2 estimated tax payments (in addition to Q1), and 2020 non-wage withholding payments (i.e., California nonresident withholding).

Also, to conform with the federal tax relief provisions, the FTB simplified its definition of an "affected taxpayer" to mean all individuals and business entities. Note, taxpayers claiming the COVID-19 relief no longer need to claim any special treatment nor call FTB to qualify.

Regarding state payroll taxes, the California Employment Development Department ("EDD") announced that employers directly affected by COVID-19 may request up to a 60-day extension of time to file their state payroll reports and/or deposit payroll taxes without penalty or interest. The EDD has not provided any insight into what it means by "directly" affected.

To obtain the EDD payroll relief, a written request for extension must be received within 60 days from the original delinquent date of the payment or return. It is not known at this time whether the EDD will update its relief based on the FTB's recent announcement.

Congressional Coronavirus Relief Bill (H.R. 6201):

On March 16, 2020, the House passed an updated version of H.R. 6201, a coronavirus relief bill that provides a) paid leave benefits to employees; b) tax credits for employers and self-employed taxpayers; and c) FICA tax relief for employers. Once the House and Senate agree on a final version of the bill, we will release a Tax Brief outlining the applicable tax provisions.
Non US News Sources
The Epoch Times –  Anti-china taint
Hong Kong Freepress –  translated from Chinese sources periodically
South China Morning Post – is owned by alibaba so it's sort of pro China at times.